The Edgy Writers Anthology
---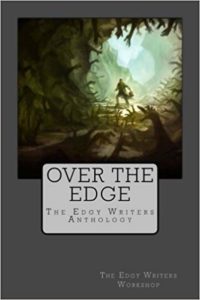 The Edgy Writer's Workshop is a writer's group that meets in Chicago's Edgewater neighborhood. It's a group of writers; some published, some not, but all talented, who read and critique each others' work. In 2016 we decided to publish some of our own best works.  The result is the Over The Edge Anthology; tales of suspense and the supernatural, of sane people in insane circumstances, and of those whose grip on reality has slipped — sometimes a little, sometimes a lot.
From the back cover:
Wrap your mind around these stories, some mere oddities, others quite bizarre:
Ominous sounds coming from a monastery stop a curious cyclist
The stakes are raised for a researcher when the murder rate is lower than she expected
Discovering a left-behind toy in their new home causes trouble for a man and his baby
A mythical and mysterious maker of magical masks creates his last
The voice of a dead woman haunts her lover
Everyone's favorite kid turns out to be a robot. Then things get weird.
Strange tales from the Edge. Are you ready?
The contributing authors are Seth Chambers (founder of the group), Steve Bellinger, Terrence Byrsa, Kevin B, Chatham, Samuel Durr, Karen Goldner, Derek Newhouse, Lori Parker and Anton Zaleski.