Now Available in eBook from Wordwooze Publishing
(Paperback and audiobook soon!)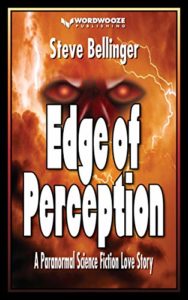 "Edge of Perception has every ingredient of a brilliant novel, from the unique story line filled with tension, surprises and well-placed conflict to the colorful and interesting characters.
"You do not need to be a fan of paranormal

novels to enjoy this book. The characters, story line and thought-provoking subject matter will send shivers down your spine. Highly, highly recommended."
—Reader's Favorite (read full review)
Ron Lewis' education and career are firmly rooted in science. But a curse that dates back to the days of slavery has plagued him since childhood.
Born in a black ghetto in Chicago in the 1960s, Ron's pragmatism is at odds with his experiences; whether it's the trials of an interracial relationship or the supernatural forces that he can't seem to avoid.
Just when he thinks he's finally found peace of mind, Ron's life is upended by tragedy. He gets the opportunity to use science to try to communicate with the dead, and to finally confront the evil that has plagued him and his family for generations.
That's when all hell breaks loose.
–Steve Bellinger
Author of The Chronocar