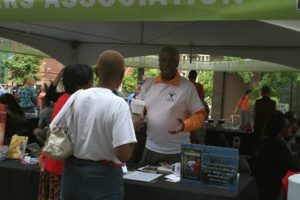 Thanks to my membership in the Chicago Writers Association, I've had the privilege of taking part in Chicago's Printer's Row Lit Fest. One of several dreams I had while I was writing my first novel that actual came to fruition. Here, and at the many other book events and science fiction/comic book conventions I've taken part in, there has always been the obvious challenge.  How to get people who are walking by your table to buy your book instead of the hundreds or thousands of others available?
It does help to have a good book, and to have an attractive display. I usually sell a fair number of books. That's mostly because I try to engage those who stop to look at my product; something I learned from my wife, Donna Smith Bellinger. It's a challenge that I can identify with on both sides. When I am walking through the Lit Fest myself, looking at all of the books on display, how do I know what is worthy of my attention?
At the Printer's Row fest last week, a young man came up to my table and picked up a copy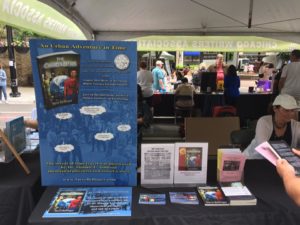 of my book and looked at the blurb on the back.  You can see him checking it out in the photo here. He glanced through the promotional material I handed to him. Meanwhile, someone else stopped by and I was soon busy engaging with that person.  I noticed out of the corner of my eye that the first young man had put the book down and was busy with his phone, so I assumed I had lost him and and gave my full attention to the new visitor.
The second person left without buying. The first young man walked up and immediately requested to buy a copy. I asked what spurred him to make the decision. He said that he had looked it up on Goodreads on his phone and saw all of the excellent reviews.
So there it is. You're at a book event or a convention and not sure if you want to buy that book that looks so interesting.  Take out your phone and look it up on Goodreads, Amazon, or maybe just Google it.
It paid off for both of us!