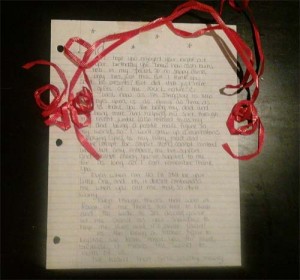 On September 4, 1982, Annika Stephanie was born.  On Easter, 2009, she left us, with, as her loving Mother-In-Law Cathy said,  "an Annika shaped hole in our hearts."
I am so glad that people still visit her Facebook page to keep it going.  But, I think I am finally starting to let her go. There is no AnnikaStephanie.com anymore, but you can still see the website (ask me and I'll tell you how.)
But there is one thing that I feel I must share.  It was actually on my birthday, probably sometime in the mid 90's when she was barely a teen.  I usually go out with my best buddy (born same day same year) and we stay out late doing such risque things as bowling or playing chess.
On this birthday, I came home late only to find this note on my desk, complete with a red ribbon.  It was one of the first times she made me cry.  I still keep it, framed, ribbon and all.
I decided to transcribe it and share it with all who loved her.  You may not get all the inside jokes, but this is exactly how it reads:
Dad,
I hope you enjoyed your night out on your birthday.  You know how cash burns a hole in my pocket.  So no sappy cards, no ugly ties, just this. But I think you said no presents?  But did that just refer to gifts of the XXXL nature?  🙂
Well, now as I'm struggling to keep my eyes open is as good as time as any to thank you for being my dad and for being there and helping me sort through the recent jumble, (also referred to as my life) and being a positive male figure in my world, so I won't grow up a manhater 🙂 Supplying to my every need and desire (except for the stupid stuff) cannot contend with, but only enhance the love, support and positive energy you've supplied to me for as long as I can remember.  Thank you.
Even when I am 40 I'll still be your Little One, and no, it doesn't embarrass me when you call me that, so don't worry.
Even though there's that wall in front of me that's too tall to climb and too wide to see around, you've let me stand on your shoulders to help me over, and it's never failed!
As for being a father figure to Krystal, we both thank you for that, because it means the world to both of us.
I've heard that girls usually marry someone like their daddy, and can only hope it's true, because if it is, it's all good!  I want my children to have everything and more than I have (now who does that sound like?) including a dad like you.
I Love you!
Happy Birthday
Always, your Little One.
PS. Did you pick up the right leaves?