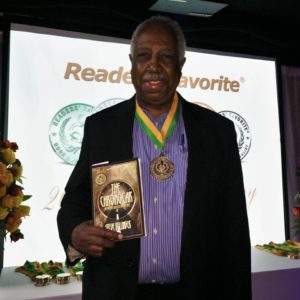 It was a warm November night in Miami Florida. I was waiting in line to receive an award. A gold medal award for my very first published novel, The Chronocar – An Urban Adventure In Time.  In the brief time I waited as other authors walked across the stage to receive their honors, I reflected on the events that got me there.
From the first time I marveled over Isaac Asimov's classic I, Robot as a 12-year old in the early 1960's I had dreamed of writing my own science fiction novel. Never one to sit around and wait, I was determined to put my ideas on paper. I created my own little handmade comic books and filled wire-bound notebooks with epic futuristic adventures. Even if no one read them but me.
Getting anything published back in the 70's and 80's was a daunting endeavor and I took success where I could find it; newspaper articles in college and the local newspaper in the small town I lived in for 20 years, original radio drama that I wrote and produced myself, Sunday School lessons for the AME Church and even fan fiction.
Some ten years ago I finally got serious and began work on what would become The Chronocar. Determined to get it done, I attended the first meeting of a newly formed meetup group called "Just Write," where all we did was write for an hour or so, then socialize briefly. These sessions along with hours of research in the library and late nights at my computer resulted in a manuscript that I thought was near perfect. Unfortunately, the publishers I sent it to didn't agree. Then, a little non-profit publisher on the East Coast, Barking Rain Press, responded to my submission with an unusual rejection letter; a very encouraging one. They could see the potential in the story, gave a brief critique and suggested I join a writers group to get help. The note ended with an invitation to resubmit the story later.
The hardest thing for a new writer to do is ask for and accept criticism. But I swallowed my pride, sort of, and joined a writers group, where budding authors would share and critique each other's work. I'll never forget one of the first suggestions that someone made. I walked away thinking that the guy was an idiot. When I got home that night I made the change that he had recommended. The result turned out to be one the best scenes in the book.  So I was sold on writers groups.
Sadly, these little critique groups tended to be very ephemeral. Some writers were less serious than others. Often the group would simply evaporate because people would just stop attending. Fortunately, I was able to latch onto a couple of other dedicated writers, Rick and James. We had formed a bond. When a group we attended died out, we'd find another and go together. Eventually, it became clear that no one was as serious as we were, and we became a three person critique group. The result is that, as of this writing, all three of us have books available on Amazon.
Many of my friends pushed me to self-publish my novel. They cited complete creative control and how I would get to "keep all of the money." When I looked into self-publishing, I realized that I would also have the privilege of "spending all the money;" seeing that editing, proofreading, layout and cover design could easily cost thousands. Besides, I was old fashioned. I wanted a traditional publisher. Not only would they take on the expense of putting the book together, but their acceptance would be validation that the book was good enough to justify the work and cost on their part.
I resubmitted my much improved manuscript to Barking Rain Press, and they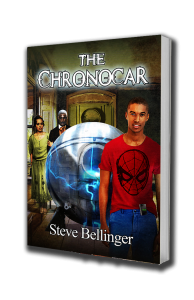 accepted and published The Chronocar in 2015. To my surprise, the book was met with almost immediate accolades. Great reviews. Science Fiction Society Book of the Month. And my Alma mater, the Illinois Institute of Technology, where some of the action of the story takes place, honored me by placing a copy of the book in the University Archives.
Recently, I found a writer's group that I could stick with. I've been a member of the Near West Critique group in Oak Park for several years now. With their help I've written three other manuscripts, including the recently released Edge of Perception and a sequel to The Chronocar.
I submitted Edge of Perception, to Barking Rain and it was accepted. It went through their extensive editing process and a cover was designed. Then, suddenly, everything went quiet. The woman who ran the company was going through some very difficult times. Family issues was taking precedence. She promised to get to the books that were nearly ready for publication, as soon as she could.
I dealt with this frustration by focusing on promoting The Chronocar again. I did more book events, including an unusual partnership with historian Joe Rulli that resulted in a very popular presentation we called "History in Fiction and Non-Fiction." I decided to spend a little money on some promotional things, including entering book award competitions, never expecting to win anything significant.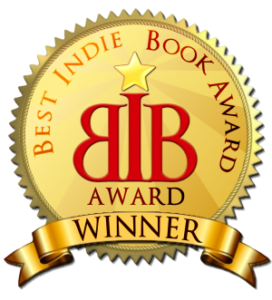 Much to my surprise, The Chronocar won the 2018 Best Indie Book Award for Science Fiction. They actually sent me a very attractive trophy. I continued to enter competitions, which were not cheap, but at least I now had proof that the book could be a winner.  Readers Favorite had done a free review of the Chronocar a couple of years earlier, giving it 5 stars.  I had read about their awards contest and the ceremony held during the Miami Book Fair each year. I figured, "what the hell," and entered, almost jokingly promising myself that I would go to the ceremony if I won Silver or better.
I was caught off guard when the Independent Authors Network, one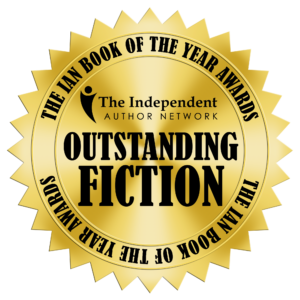 of several competitions I entered, recognized The Chronocar as "Outstanding Fiction." No trophy this time, just an electronic badge to display on my website, but now The Chronocar was a two time winner.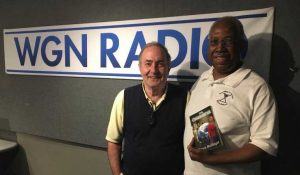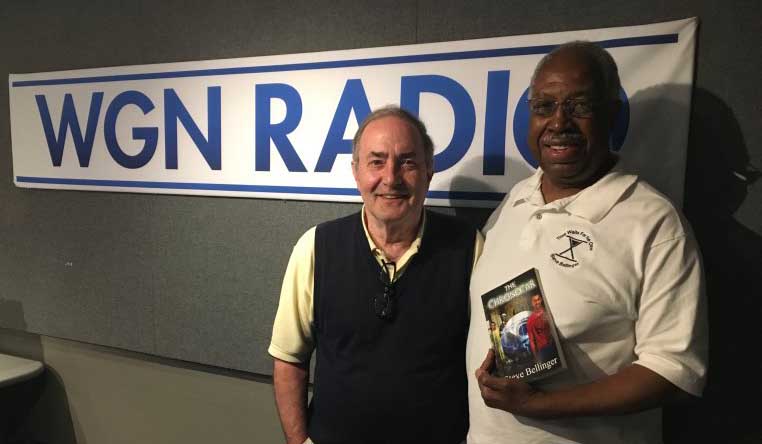 The Chronocar helped me score appearances on two of Chicago's most iconic radio stations. I was interviewed by Rick Kogan, Chicago Tribune Columnist and host of his own program on WGN radio, and I appeared on Art "Chat Daddy" Sims' program on WVON. After the WVON appearance, one of Chat Daddy's other guests complemented me on my interview and asked if The Chronocar was available as an audiobook. This had been probably the twentieth time someone had asked me that. So when I got home, I did a little research on the possibilities.
This was when things really went nuts.
I and my fellow Barking Rain Press authors were starting to get restless. We understood the problems they were having, but we had books that were a year or more past their promised publication dates. Still, I tried to put that out of my mind. I looked up what it would take to make an audiobook and, of course, found it to be expensive. Another search turned up audiobook publishers, one of which was looking for published novels to turn into audiobooks.  Wordwooze publishing specialized in audiobook publishing but also did paperback and eBooks as well.  I sent them an inquiry about recording The Chronocar as an audiobook. They asked for a copy of the manuscript.
Barking Rain Press finally made the reluctant decision to shut down. Not only was my second novel not going to be published, but The Chronocar would soon be no longer available.
The people at Wordwooze sent me a contract to produce the audiobook version of The Chronocar.
Since it was never published, Wordwooze was interested in looking at Edge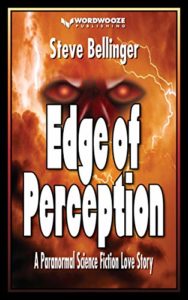 of Perception.  I sent the manuscript. The sent me a contract for paperback, eBook and audiobook publication.
When Barking Rain provided me with a rescission letter releasing me from my contract, Wordwooze agreed to re-release The Chronocar in paperback and eBook completed with a new cover design.
All of this happened in less than a month.
Then I got the email notification that the winners of the 2019 Readers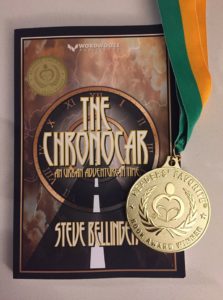 Favorite awards had been chosen.  I had to go to the website to see the results. I went there hoping for at least honorable mention. I nearly fainted when I saw that I had won the Gold Medal in Young Adult Science Fiction. This was in a competition with thousands of entries (hundreds in my category) from all around the world.
So I kept my promise to myself. Since I had won the "gold" I was going to go to the ceremony to pick it up.  Then another surprise. A dear friend of mine (and also a fan) who happens to be a very successful businessman, offered to pay for my wife and me to attend!
So here I was. About to step on the stage to get my gold medal. The gentleman who was about to announce me to the audience was confirming the correct pronunciation of my name and the book title when he mentioned that I had won top place in one of the most competitive categories. I walked across the stage and had the award medal hung around my neck and was photographed.
Ten seconds later, it was all over.
I sat down and cheered for the other winners.  I made friends with other authors from as far away as Singapore and South Africa. The next day we visited the Miami Book Fair where I was interviewed on video by some college students. Writers who were selling their books at the event were blown away when I explained why I was there and what I had won. It was all quite amazing.
No, it's not a Hugo or Pulitzer.  Book sales will probably get a little spike for a while, but I have not become an overnight sensation. Still, there is nothing like receiving recognition from people that you have never met, telling you that your work has real value. And to bring home tangible proof that, yes, this did happen.
It is something that I will remember forever.